Kubareisen


Casa Particular in Cuba
Travel to Cuba - a wonderful island in the Caribbean. Summer, sun, palms, sea, beach ....everything you dream of.
Do you think it will be too expensive for you ? There is just an easy way to cut your costs: Stay in a private house (Casa particular). Sometimes much better and comfortable than any hotel.

Casas (private houses / bed & breakfast):

For pictures and further information just click on the name of the house or the hand.


Havana:
located in the city center of Havana (Vedado) close to the calle 23 (La Rampa) in Vedado. The hotel Habana Libre is only one block away. Marina speaks some english and is very helpful.

Price 25 $ per night.
located in the city center of Havana close to the Plaza de la Revolucion, private apartment with independancy, own kitchen, bathroom, fridge etc.

Price: 25 $ per night.

Playas del Este - Boca Ciega/Guanabo: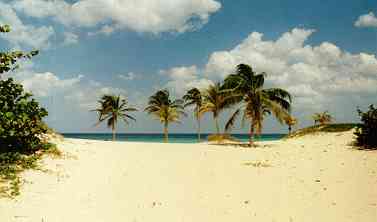 The beach at the "playas del este" - do you need any comment???.
very calm, complete house with two sleeping rooms, dining room, kitchen, bathroom, air condition etc. The nicest house for rent I have seen in Cuba.

Price: 60 $ per night
she has two independant apartments: one with one sleeping room and another with two sleeping rooms.

Price: from 25 $ per night
Santiago de Cuba:
A comfortable accomodation in the heart of Santiago in the house of a very friendly english speaking family. They also organize dancing lessons and spanish courses for you.


---
In all of these houses we stayed ourselves during recent trips to Cuba and made very good experiences with the owners. All houses are clean, provide security for your belongings and obtain the official license (permis) from the cuban government to rent rooms to foreigners.
These websites are designed in order to help our cuban friends to get some more guests for their private bed & breakfasts. We do not want to make any money by this service, so we will provide you free of costs with the adresses and telephone numbers of the houses. Only if you ask us to call for you to Cuba in order to make a reservation we expect you to cover our telephone costs - nothing more.
Hendrik and Olga
Information and Reservation:
- for these and some additional houses -
just send a mail:


---
Links:
Travelling by train in Cuba - Information, schedules and prices
travel guides - review and order the best cuban travel guides
travel reports - share other personīs experiences with Cuba
domestic timetable - of Cubana airline, sometimes server down